Congratulations, Here's Everything You Need To Start Promoting The "Profit From Your Hobby" Ebook!
And start earning residual commissions by selling Solo Build It...
Welcome to the program and thankyou for partnering with me in sharing the Solo Build It story with others through this ebook.
To hear a short message from me, please make sure your speakers are turned up, and click on the play button below.
Here and in the email coaching course to follow you'll find everything you need to effectively promote Solo Build It and Sitesell's other products to people all over the world.
While I can't guarantee you earn any specific amount of money by promoting Sitesell's products (or even any money at all), you now have the inside running over most other Sitesell affiliates.
Important Note - But before we start, I just have to remind you that you aren't allowed to use any unlawful activity (such as sending spam email messages) in any way to promote this ebook or any of Sitesell's products.
You can only share the book and the other materials I'll be sending you with people with whom you have an existing relationship.
In other words, these are people who you already personally know, people who voluntarily opt-in to one or more of your email lists, or through joint venture partners who agree to promote the book or any of the articles I'll give you (or that you write yourself) to their readers.
Your use of this ebook and other articles and reports you will receive confirms that you agree to abide by these conditions. If you don't agree, please don't download the ebook!
With that disclaimer out of the way, here's what you'll receive as part of your membership of this exclusive group -
Your own copy of the re-brandable Profit From Your Hobby ebook

Complete branding instructions showing you how to put your own Sitesell affiliate link (or RR URL) into the ebook

Tips on how to get the book into as many people's hands as possible. It's a numbers game, the more people who read the book, the more the likelihood of you making sales of Solo Build It

Ideas for using joint ventures to get other people to promote the ebook to their readers for you, earning you second tier commissions. This strategy gives you true, unlimited leverage and used effectively can supercharge your sales

Articles and reports you can offer to potential joint venture partners and use to follow up with your readers to help you increase your sales conversion rates and sell additional products

And lots more...
Ok, let's begin.
Step 1 - Create a new folder on your desktop called Hobby Profits Project.
This is where you'll be storing everything you need to promote the Profit From Your Hobby ebook.
Step 2 - Right click on links to the ebook file and the re-branding tool below and choose 'Save Target As' from the menu that pops up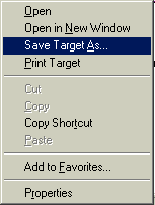 (if you are using a PC) to save your own re-brandable copy of the Profit From Your Hobby ebook and the branding tool you'll need to your computer.
Save them to the Hobby Profits Project folder you just created so you can find them easily later on.
Right click here to download the Profit From Your Hobby ebook (195 kb)
Right click here to download the PDF Ebook Re-Branding Tool
Step 3 - Re-brand the ebook following the step by step instructions on the Instructions page.
Once you've done the first few steps and re-branded your ebook, check that each re-brandable link in the book is correctly encoded with your own personal Sitesell RR URL.
Important Note - The links to the case studies and several other pages aren't re-brandable, only the ones to the Sitesell website.
Step 4 - Upload the ebook to your SBI site by following the instructions in the second part of the Instructions page.
Everything you need to upload the ebook is there on that page, so you shouldn't have any problems if you follow the instructions
Note - If this causes you a lot of problems and you can't get it work properly when you try to do it yourself, see below for a simple solution.
Step 5 - Before you go any further, read this page (it opens in a new window) to get the big picture of how the ebook works and why I set it up like I did.
Step 6 - Offer the ebook to your website visitors and to the people on your email list if you have one.
Recent research has shown that over 70% of Americans (and probably a similar number in other countries) are thinking about starting a business. This means that many of the people you have contact with every day are looking for a business opportunity or solution right now.
You can capture their imagination by sending them this ebook, and let the Sitesell sales pages do all the hard work for you...
Also send a copy of the ebook to everyone in your email address book who you feel may be interested in building a business at some stage, but just aren't sure how.
The response you get might surprise you.
Ok, that's enough for today.
If you any have trouble re-branding and uploading your copy of the ebook to your SBI website, I can do it for you.
Try it yourself first (it's quite easy if you follow the instructions:-) but if all else fails, visit this page for full instructions on how to get me to do it for you to get you started.
Again, thankyou for becoming my partner in sharing the Solo Build It story through this ebook.
I'll be in touch tomorrow and then regularly thereafter with ideas, new tools and resources you can use to help you promote SBI through the ebook.
If you have any questions, please let me know by using the Contact Form.
To your success,
Warmly,
P.S. And don't forget, every person who subscribes to the Private Site offer inside the ebook will receive an ongoing series of messages PRE-selling SBI from me...and you'll get the referral fees on any sales that are made from this follow up process.
P.P.S. Plus, everyone who buys SBI through the ebook is entitled to the free bonuses I mentioned inside the book, which I've found is a big factor when someone is choosing between one affiliate and another.
I hardly ever sold any SBI's until I started offering additional bonuses, now I sell a LOT of them...Even though SBI is a wonderful product, bonuses work, and your visitors are entitled to them as well.
Legal Information
Disclaimer | Terms Of Service | Earnings Disclaimer | Privacy Notice