Is A Siberian Husky Right For You?
Get My Best Tips For Overcoming Your Dog's 'Selective Deafness' When You Want Him To Obey You... FREE
Simply enter your email address below, and click 'Free Access'
Are you looking for a dog who is very active but still loves the company of people? If so, you may want to consider the Siberian Husky. 
This beautiful dog was bred to tirelessly pull sleds loaded with supplies over frozen terrain for miles on end. At the end of the day, Huskies provide companionship to their owners.
The Siberian Husky is classified as a part of the Working Group by the American Kennel Club.
Like most dogs in this group, the Husky must have a job to do to keep him from getting into trouble.
These dogs are less domesticated than many other dog breeds and are actually quite wolf like.
The Husky is a thirty five to sixty pound dog that stands twenty to twenty four inches tall.

These high energy dogs have a very thick coat made up of two distinct layers.
Huskies have prick ears and a wolf like face.
This breed's coat comes in a variety of colors, although most Huskies have black and white or silver and white coats.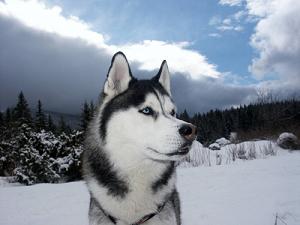 The most striking feature of the Husky is his almond shaped blue or brown eyes.
The Siberian Husky Is A Very Impulsive Dog
The Siberian Husky is a very impulsive dog and can get into more scrapes and dangerous situations than almost any other type of dog.
More than one Husky visits the veterinarian's office to be patched up on a routine basis.
These dogs are usually good with older children, but may not be the best choice for families with infants or toddlers.
Huskies have a reputation for being aggressive towards cats or small animals and may not be trustworthy with smaller children. 
Since the Husky is so energetic, this breed does not do well in apartments or homes with small yards.
In fact, Huskies often prefer to spend most of their time outdoors during the colder months, since their heavy coats make indoor temperatures uncomfortable for them.
If you decide to purchase a Siberian Husky, just be sure that your yard is securely fenced, as these dogs tend to have Houdini like tendencies.
It is important that you train your dog thoroughly, since the Siberian Husky is constantly looking for signs of weakness. You may want to attend obedience classes with your puppy to get some help in training him.
If you do not maintain a dominant position, your dog will become a nightmare to own. For this reason, Huskies are best for experienced dog owners.
Siberian Huskies Can Eat A Lot...
Siberian Huskies can eat a lot, although some of these dogs do not eat well when they become nervous and high strung.
Of course, other Huskies eat everything, including the house siding, shoes, belts and everything else you forget to put out of their reach :-)


Siberian Huskies should be groomed at least once a week to remove dirt and debris from their lush coats. Of course, when your dog is shedding his coat, you may want to groom him more frequently.
Overall, Huskies tend to be a fairly healthy breed of dog. The majority of the Husky's health problems are accident related, although this breed can suffer from hip dysphasia and hypothyroidism.
If you don't mind owning a dog who will constantly keep you on your toes, then you may want to consider the beautiful Siberian Husky.
And Training Your Husky Just Got A Whole Lot Easier...
Good training for your Husky is such an important part of ownership that you can't just leave it to chance.
When we were training our dogs there was so much misinformation around it was hard to work out what was good and what was junk.
Finally we found something that not only worked, it made sense.
Rachel's training really helped us to get the most out of our two dogs and now they are obedient, happy and a really great part of our family.
To get a free dog and puppy training course, check out Rachel's Dog Training site here. I think she's really cool :-)
We hope you enjoy your visit to our website.
Thanks for visiting,
Cheers,

Visit Our Premium Partners...
Rachel's Dog Training Tips shares stories, dog behaviour training tips, and much more dog training information. And her Dog Training Academy has a free course that will help you to train your dog to be obedient, happy and a terrific member of your family. Check it out for yourself...
Have a stunning pastel pet portrait created for you today. Debbie will capture your pet's mood and character for you in a professional quality portrait. Fast, free worldwide delivery no matter where you live
Looking for Beaudesert Property so your Siberian Husky has room to run around instead of being cramped up? You want to be able to trust the agent you deal with. Here's how
This Is A Solo Build It Site, Powered Of Course, By Solo Build It